Today I'm back with a makeup haul featuring Dose of Colors and Laura Gellar. Dose of Colors' 40% off sitewide sale was the perfect opportunity for me to finally try out their Block Party eyeshadows, as well as a couple of lip products. Just a few days later, Laura Gellar emailed a 44% off Flash Sale on sale products. If you're ready for product photos + swatches, keep reading!
Dose of Colors' Satin Lipstick in the shade Butterscotch is described as a Nude Beige, and is vegan, cruelty free, talc free, paraben free, and gluten free. I felt this lipstick would be the perfect nude to pop over any lipstick right in the center.
Our satin lipstick is a richly pigmented formula, in-between a matte and creamy finish. It's unique shape allows for a smooth and precise application.

Colors may vary, the results of our colors may vary due to a number of factors including but not limited to; monitor resolution settings, lighting & skin tone, etc.
Dose of Colors' lip liner in the shade Overdrawn is described as a dusty pink, although I would describe it as more of a peachy/beige mid-tone shade. I was hoping it would be a bit deeper and a true pink-y/brown.
Creamy, long wearing lip liners deliver transfer resistant high coverage color with a matte finish. Built in sharpener included. Secure cap to prevent drying.

Colors may vary, the results of our colors may vary due to a number of factors including but not limited to; monitor resolution settings, lighting & skin tone, etc.
I have been interested in trying Dose of Colors' Block Party Eyeshadows for so long and I finally have them! I absolutely love the packaging and I ordered five shades which I'll detail below. These seem like the glitteriest, most pigmented eyeshadows ever which is exactly what I love. One shade smokey eye, anyone?
Block Party Single Eyeshadow is packed with multi-dimensional reflects, creating an ultra-dazzling finish. Apply eyeshadow onto eyelids using your finger for maximum intensity or for softer coverage, apply onto eyelids using your preferred brush. Each single eyeshadow comes in its own mirrored compact.

Colors may vary, the results of our colors may vary due to a number of factors including but not limited to; monitor resolution settings, lighting & skin tone, etc.
Lock & Key – Medium Brown Base w/ Gold Reflects
Heart of Gold – Antique Gold Base w/ Gold Reflects
Reflection – Muted Taupe Base w/ Silver Reflects
Caffeine Queen – Reddish Brown Base w/ Gold Reflects
Sky's The Limit – Soft Brown Base w/ Icy Lilac Reflects
On first impression, some of the eyeshadows were definitely patchier than others. Some required several swipes, which is probably why the product is rated just 3.5 stars on Ulta. I did notice that but chose to purchase them anyway. My opinion is still developing.
Onto Laura Geller! Laura Geller is an iconic beauty brand to me, it used to be sold at Sephora, than Sephora phased them out and it reemerged at Ulta, and then Ulta phased them out and now it seems they're only available on the Laura Geller website or at department stores like Kohl's or Marshalls. I just think the brand deserves a revival because their products are really underrated.
That being said, I saw a 40% flash sale email on a wide range of products that were already on sale on their site, so I went to check out the goods. I made out big with these soft matte baked blushes, which were only $11.20 each! They are normally $20.
I picked these babies up for How beautiful are these swatches!? I order my swatch templates from MissFitzDesign on Etsy.
I also purchased this soft matte baked bronzer that I'm less than thrilled about. I purchased it in the shade "Deep" because it was the only option available and it didn't look that dark online. However, in person it does for my complexion. This was also $11.20.
Here are swatches of all the Dose of Colors Block Party Eyeshadows, Laura Geller Soft Matte Baked Blushes, and Laura Geller Soft Matte Baked Bronzer shot on my camera:
Here are the swatches shot on my iPhone:
I put together a couple of looks using the shadows and blush. Below is a series of photos I took only using the eyeshadow in Lock & Key (a medium brown base with gold reflects). I used my ring finger to tap on the product for the most intense effect, then blended the edges with an eyeshadow brush.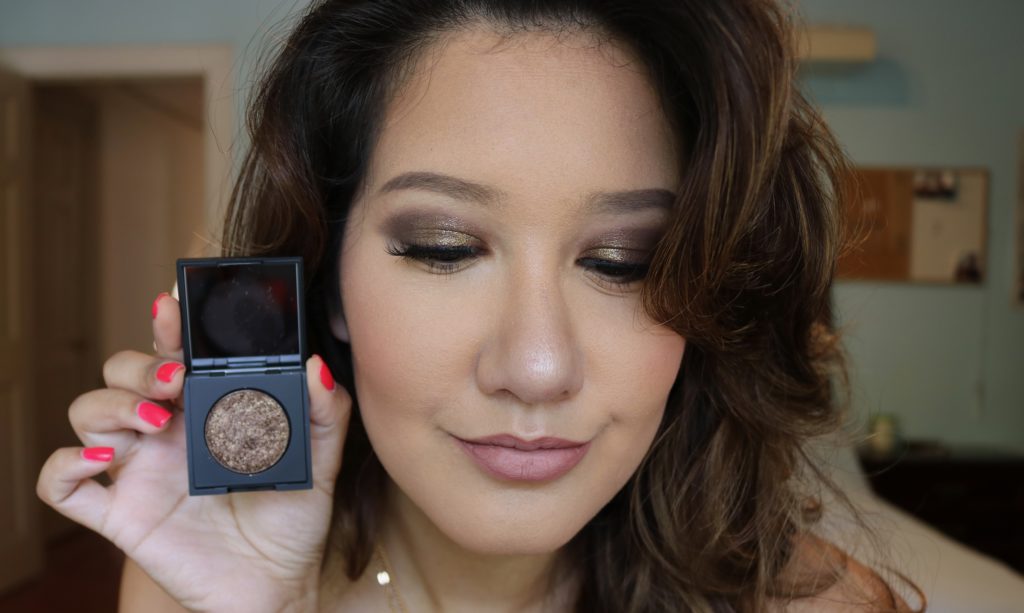 My eyeshadow blending needs work but that gives you an idea of the pigment and intensity that can be built up. I paired the look with the Laura Geller blush in Romantic Rose.
On another day, I combined the shadows in Sky's the Limit and Reflection all over the lid, with Caffeine Queen used in the crease and outer V (I also added a matte brown shadow to deepen the effect – so sue me).
Here's a photo shot on my iPhone – I have hooded eyes so sometimes I have to tilt my head back for you to be able to see the work I've done – when my eyes are open the eyeshadow my mobile lid disappears.
I really want to pack the eyeshadows on as intensely as possible so we can all see exactly how much punch each of these shadows are packing. I'm going to work on this for my review blog post. I hope you guys enjoyed reading this "new in makeup" Dose of Colors/Laura Geller edition! Let me know what you think of all the products in the comments below.